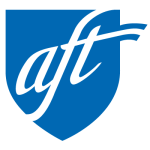 The Community Awareness Committee of the American Federation of Teachers (AFT) will be hosting an Outreach Table at the Pitman Craft Fair on Saturday, May 14th from 8 am to 4 pm.  This craft fair is a regional draw and vendors get much exposure; thousands of people attend this event.  Our participation will be to enhance the image of the union and to create good will in our community as we negotiate our contract. 
WE NEED YOUR HELP!  WE NEED VOLUNTEERS THAT DAY; from assembling in the morning and setting up the tent to working the day giving out AFT bags and working the Children's Station to tearing down the tent that evening.
Everyone's assistance is needed… even if you can only donate an hour of your time that day!  Every bit helps!
Set up begins at 8-8:30 am, the fair begins at around 9 am and concludes at 4pm.
Email me at Block@rowan.edu your time of availability or how you would like to help that day (i.e. put up the tent and tables/ or take down the tent and tables or "person" the table).
Thank you for your continued support!
In solidarity,
Lori Block
Chair, AFT Community Awareness Committee